The role of Narrative, Ambivalence Thinking, Fair Deliberation and Responsible Choice.
17/03/2022 || h 9:30 – 12:30 (CET)
International Workshop
Polytechnic of Bari, Italy
Saletta Biblioteca, Palazzo del Rettorato (via Amendola 126/b), Bari
Online event: Facebook.com/CALLresearchlab/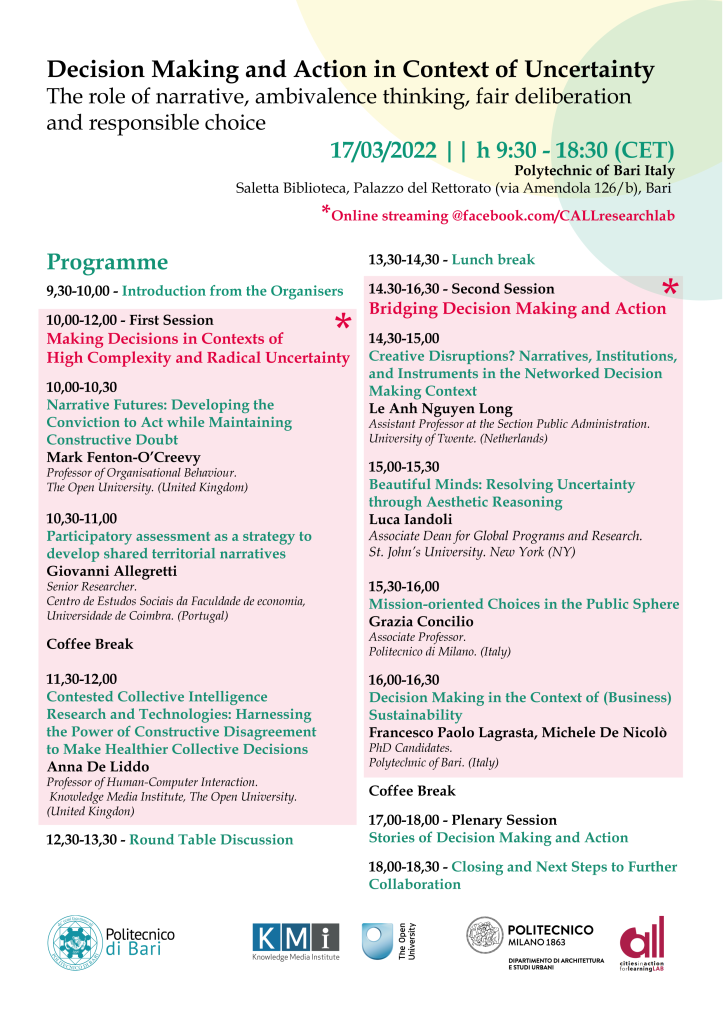 Concept
How does one decide to act in contexts of high complexity and radical uncertainty? By the term 'deciding to act' we mean a process that bridges decision making and action: a process people go through, which encompasses sense making, ideation, planning, judgment, choice and commitment to act. Something more than developing an idea that will solve a problem; that is, an intentional commitment and feeling that an imagined future is possible (even being uncertain) and that we can act toward achieving it.
Decision Making and Action are commonplace practices in our everyday life. However, our understanding of the range of behaviours and systems that enable individuals, groups or organisations to make positive, equitable and sustainable decisions, and take collective actions toward achieving them, is still very poor.
Building on Conviction Narrative Theory [1], we believe that uncertainty contexts require decisions and actions that are built with a particular type of future oriented or foresight narrative (conviction narrative), which incorporates knowledge, feelings and agency. Conviction narratives enable the coherent combination of "available knowledge about how to achieve our desired outcomes, the feeling that the selected action will achieve the aim" [1], and the conscious and responsible choice to commit to it (agency). Conviction narratives are commitments to a possible future which we trust may be realized despite all odds, and that need to be constructed in a context of ambivalent thinking (by assessing and accepting the anticipated pro and con of actions).
This workshop aims to bring together scholars who are passionate about enabling new ways to decide and act together in the face of uncertainty. Our overall aim is to explore and discuss new theories, methods and tools to bridge decisions and actions in contexts of radical uncertainty.
This requires pulling together expertise which includes (but is not limited to):
Future and foresight science || Theory of Change || Transition Management || Strategic Thinking || Storytelling and Narrative Research and Technologies || Organisational and System Science || Urban and Environmental Studies || Behavioral Psychology || Collective Intelligence and Online deliberation || Human-Computer Interaction || Distributed Decision Making || Sustainable Collective Action || Open innovation || Circular Social Economy
Problem Statement: Bridging Decision and Actions Today
There is a recent increase of focused interest on decision making and collective action at scale that is spurred by 3 global forces.
One has been the push of information explosion and technological innovation (ICT and AI tech- nologies). Web-based tools have radically changed the way that individuals and organisations access and explore large amounts of information to inform decisions and actions; this in turn fundamentally changes the way in which people understand and tackle complex problems and how they think about issues which require actions. As the Web and social media influence what we know and feel, so they influence (in a more or less aware way) what we choose and do. Consequently, both Social/Political Scientists and HCI scholars have begun joining efforts on projects which look at the impact of social media and AI technologies on individual and collective behaviours. For instance, by studying the extent to which misguided choices, harmful actions and collective ignorance are produced on the Web, and how they can be prevented (see, for instance, the study of misinformation sphere, AI bias, and online polarisation).
Another major force has been the pull from the COVID19 pandemic, which has demonstrated the inability of governments and institutions worldwide to make decisions and public actions that are perceived as fair, inclusive and just. Policy-makers have relied on existing decision-making tools, dependent on modelling and optimisation, based on unilateral views of the future, poorly informed by a diverse pull of expertise, that have proved to be dangerous and often failed. In addition, the unfolding COVID-19 crisis has demonstrated that far-reaching consequences can follow from failing to engage citizens in policy making, and from decision makers' uncertainty about how the public would respond to different policy options. There is a lack of current methods to engage citizens and gauge their opinion at scale, in a way that can effectively inform public policy and decision making.
Research on uncertainty science, behavioural psychology, and collective intelligence technologies has yet to propose novel immersive civic engagement methods (together with its enabling tools), that can engage citizens at scale and at the same time provide rich insights for policy making. The third key force is represented by the failure of our environmental system, which has exacerbated the public sense of urgency to take action against climate change. Such actions require collective intentions and mobilisation of commitments at scale. Yet, catalysing collective action in a moment of societal distrust, global polarisation and collective anxiety is harder than ever. Environmental scientists, Urban Planners, Climate Activists, Policymakers and global institutions worldwide have started projects, deployed technologies and developed policies to promote behavior change and sustainable choices in the way we live, entertain, work and buy. Yet, our understanding of the theories, methods and tools to reproduce successful examples of sustainable change and scale them out is very limited.
These three parallel forces have created a public unrest, which left many individuals and organisations paralysed, almost incapable to imagine positive futures ahead, and powerless to decide and act toward achieving them. This paralysis and fundamental societal crisis requires investigating new theories, methods and tools to help us collectively decide and act in contexts of radical uncertainty.
[1] Fenton‐O'Creevy, M., & Tuckett, D. (2021). Selecting futures: The role of conviction, narratives, ambivalence, and constructive doubt. Futures & Foresight Science.
Workshop Goals
This workshop aims to investigate Decision Making and Action in the Context of Radical Uncertainty. In particular, by looking at the critical role of narrative, ambivalence thinking and fair deliberation to make responsible collective choices toward (uncertain but possible) sustainable futures. We ask questions such as:
• How can foresight narratives generate action? What processes and narrative creation experiences can lead to positive collective action?
• What other decision making and collective action schools of thought are there, and how can we mutually inform each other's work?
• What is the role of moral responsibility in conviction narrative shaping?
• What is the relation between social responsibility, emotions and action?
• Do emotions and social responsibility affect how we assemble, select, and act on narratives of the future?
• What is the role of emotions in helping people connect with a collective narrative and being moved to action? And what are the risks of an emotional (only) approach to action?
• What is the role of ambivalence and the presence of conflicting cognitions, emotions and arguments on our capability to decide and act together?
• In what condition does ambivalence hinder or facilitate collective decision making and action?
• What digital systems can be designed and used to promote a healthy relationship and experience with ambivalent thinking in uncertain situations?
• How can social debate improve collective decision and help mobilise action?
• Whether with actual group discussion (deliberation between) or anticipated internal discussion in people's minds (deliberation within) how can social debate contribute to improving foresights thinking and promote collective decision making?
• What is the role of aesthetic (and elegance) in helping people reducing complexity and face ambivalence in uncertain decision making contexts?
• How does decision making and action fit into other knowledge work (information gathering, sense making), and what relationships are there between these varying capabilities?
• How can the citizenry be engaged in developing their own foresight narratives and how might they be similar or dissimilar with scholarly and popular foresight narratives that are present but hidden or as-yet undeveloped?
Workshop Outcomes
From this meeting of the minds, the "Making Decisions and Act in Context of Uncertainty" workshop has several desired outcomes:
1. We will create working relationships between researchers whose work focuses on aspects of Decision Making and Collective Action.
2. We will enrich our understanding of Making Decisions and Collective Action activities. This includes striving for a shared understanding of the different notions of Making Decisions and Collective Action, articulating their commonalities and differences.
3. We will understand design implications for improved decision making and collective action tools, systems and aids. Insights from this workshop should be useful for guiding the next generation of decision making tools and systems, driving a synthesis of data, human and environmental understanding and insights.
Workshop Organisers
Anna De Liddo, Professor of Human-Computer Interaction at the Knowledge Media Institute of the Open University (UK). Anna leads the IDea Group (https://idea.kmi.open.ac.uk/), investigating theories methods and tools accounting for the centrality of social interaction and discourse in public engagement, urban informatics, e-democracy and social innovation contexts. In the past 10 years Anna has lead the design and development of 8 different Collective Intelligence technologies (Cohere, The Evidence Hub, LiteMap, DebateHub, CIdashboard, Democratic Reflection, Democratic Replay and bCause), she launched the Collective Intelligence for The Common Good Open Research and Action Community Network (ci4cg.org), was PI of the FP7 project CATALYST on Collective Applied Intelligence and Analytics for Social Innovation, and Co-I of the EDV project exploring new interaction technologies to harness audience feedback to political debates. In 2019, Anna was awarded an individual fellowship from the Global Office of Naval Research (ONR Global) to research and devise the next generation of technological solutions for discussion-enhanced collective decision-making (bcause.app).
Grazia Concilio, Ph.D. in Economic evaluation for Sustainability, master degree in Engineering, is Associate Professor in Urban Planning and Design at DAStU, Politecnico di Milano. She carried out research activity at the RWTH in Aachen, Germany (1995), at IIASA in Laxenburg, Austria (1998) and at the Concordia University of Montreal, Canada, (2002). Responsible for 7thFP and Horizon2020 projects. Her research interests are related to the digital dimension of urban innovation and transformation and related decision making and governance models. She has authored several articles and books.
Irene Bianchi, Ph.D. in Urban Planning, Design and Policy, is Post-Doctoral Research Fellow at the Department of Architecture and Urban Studies, Politecnico di Milano. She previously carried out research activities at the University IUAV of Venice and at TU Berlin. Her research focuses on the interplay between urban dynamics and policy action in sustainability transition processes. Her research focus develops around the analysis of governance transformation, with a focus on social learning and policy innovation.
Pierpaolo Pontrandolfo (Local Host), Professor of Business and Management Engineering at Politecnico di Bari (PdB). At PdB Pierpaolo has served as Head of Department, Vice-chair of the PhD program "Environmental Engineering", member of the Academic Senate, Chair of the Ethical Committee, member of the Board of Directors, General Manager. Pierpaolo holds a degree in Mechanical Engineering (1990) and a PhD in Engineering of Advanced Manufacturing Systems (1998). In 1995 and 1997, he was visiting scholar at the University of South Florida (www.usf.edu), Tampa, USA. After graduation, he worked as engineer for the Italian Army (maintenance department) and FIAT Auto (operations department). Pierpaolo is also a member of the scientific board of MedITech Competence Center 4.0 (https://meditech4.com/), one of the eight Italian competence centers selected by the Government to promote digital innovation. His current research interests are business sustainability and supply chain management.
PROGRAMME
17/03/2022 || h 9:30 – 12:30 (CET)
Polytechnic of Bari Italy
Saletta Biblioteca, Palazzo del Rettorato (via Amendola 126/b), Bari
*Online streaming @Facebook.com/CALLresearchlab/

9,30:10,00 – Introduction from the Organisers
10.00:10.30
Narrative Futures: Developing the Conviction to Act while Maintaining Constructive DoubtMark
Fenton-O'Creevy
Professor of Organisational Behaviour. The Open University. (United Kingdom)
10,30:11,00
Participatory Assessment as a Strategy to Develop Shared Territorial Narratives
Giovanni Allegretti
Senior Researcher.
Centro de Estudos Sociais da Faculdade de economia da Universidade de Coimbra
Coffee Break – 11,30:12,00
12,00:12,30
Contested Collective Intelligence Research and Technologies:
Harnessing the Power of Constructive Disagreement to Make Healthier Collective Decisions
Anna De liddo
Professor of Human-Computer Interaction. Knowledge Media Institute, The Open University. (United Kingdom)
12,30:13,30 – Round Table Discussion
13,30:14,30 – Lunch break
14,30 – 15,00
Narratives, Institutions and Instruments for the Networked Decision Making Context
Le Anh Nguyen Long
Assistant Professor at the Section Public Administration. Faculty of Behavioral, Management & Social Sciences (BMS), University of Twente. (Netherlands)
15,00:15,30
Beautiful Minds: Resolving Uncertainty Through Aesthetic Reasoning
Luca Iandoli
Associate Dean for Global Programs and Research. St. John's University. New York (NY)
15,30:16,00
Mission-oriented choices in the public sphere
Grazia Concilio
Associate Professor. Politecnico di Milano. (Italy)
16,00:16,30
Decision Making in the Context of (Business) Sustainability
Francesco Paolo Lagrasta, Michele De Nicolò
PhD Candidates Polytechnic of Bari. (Italy)
16,30:17,00 – Coffee Break
17,00:18,00 – Plenary Session Stories of Decision Making and Action
18,00:18,30 – Closing and Next Steps to further Collaboration